The second night we were in Vegas at the Kitchen and Bath Industry Show (KBIS) was one to remember...
We toured three of the beautiful Mandarin Oriental Hotel's penthouses — three stunning penthouse suites situated at MGM CityCenter, in the heart of the Las Vegas Strip, with spectacular views everywhere.
And the show they put on for us was absolutely incredible — Cirque du Soleil performers were even there!
These beautiful penthouses were appointed with some fabulous products:
Poggenpohl cabinetry, BLANCO sinks and faucets, countertops by Cosentino, and Dacor appliances. All four combined beautifully to create these luxury, high-rise penthouses overlooking all the excitement of Vegas below. All very contemporary in style with plenty of sparkle and WOW, they compliment the Vegas experience perfectly.
The President of Poggenpohl, Neil Bailey, introduced the evening:
"Tonight's theme, the art of performance, truly embodies the essence of what a Poggenpohl kitchen journey is about. It's like your first Cirque du Soleil performance. We've all had this experience… You are having a great time, the lights go down and everything on stage seems so effortless – but you know it took 100's of hours of preparation. The performers practicing and beginning their careers at a young age, the costumes, the engineering on stage, the lighting, every nuance is thought through. When something or someone is at the top of their field – pushing the boundaries of what's humanly possibly – of the imagination itself – that is appreciated in immeasurable ways.
That is the vision of Poggenpohl. When you own a Poggenpohl kitchen, the performance has reached the level of art form. It's completely effortless. But that innovation was hardwired and engineered in from the beginning."
According to kitchen designer Anne Kramer of Poggenpohl, the intent was to showcase unique design features in each of the three kitchens.
Here's what she had to say:
"Our vision is to personalize each kitchen to the homeowner's needs for entertaining, for cooking, for storage and for lifestyle. Unlike traditional homes, these residences are at the height of the Las Vegas strip. A rarified atmosphere where anything is possible. The kitchen design had to reflect a setting that was warm and comfortable, yet impressive. Of course both the cabinetry, surfaces, fixtures and appliances had to achieve the highest performance whether the owner makes a quick meal, orders in or has a private chef to cook."
Slideshow — Poggenpohl Penthouse Kitchen #1
Slideshow — Poggenpohl Penthouse Kitchen #2
Slideshow — Poggenpohl Penthouse Kitchen #3
You can create your own version of these luxurious spaces in your home with Poggenpohl cabinetry.
Take a look at some of the exquisite details. These cabinets move like a graceful acrobat. :-)
Slideshow — Design details (click to enlarge)
The P'7350 Design by Porsche Design Studio:
Poggenpohl has just introduced their P'7350 Design by Porsche Design Studio. We saw it in-person at their booth at KBIS and were beyond impressed with its ease of operation, storage capacity, simple beauty, and clean lines.
Slideshow — Porsche Design Studio's P'7350 Design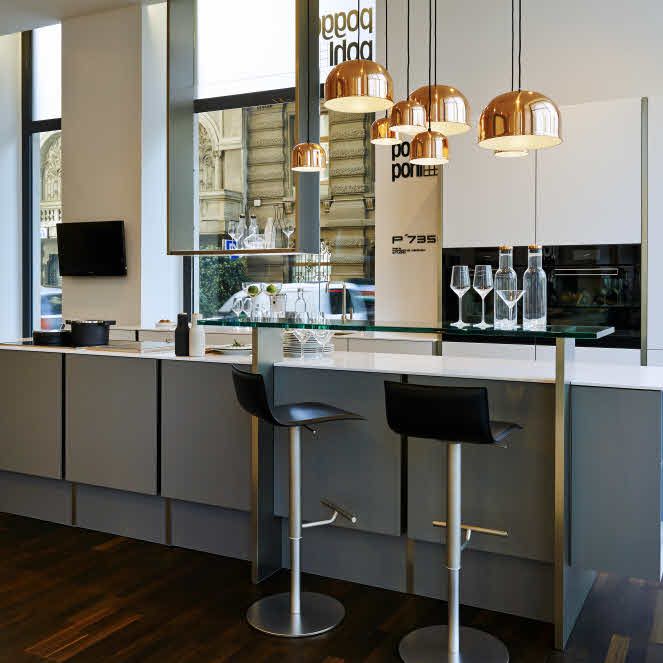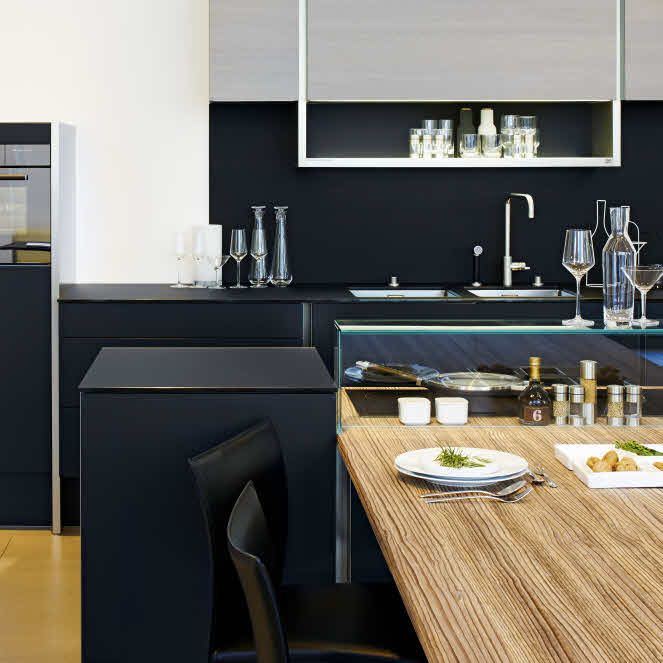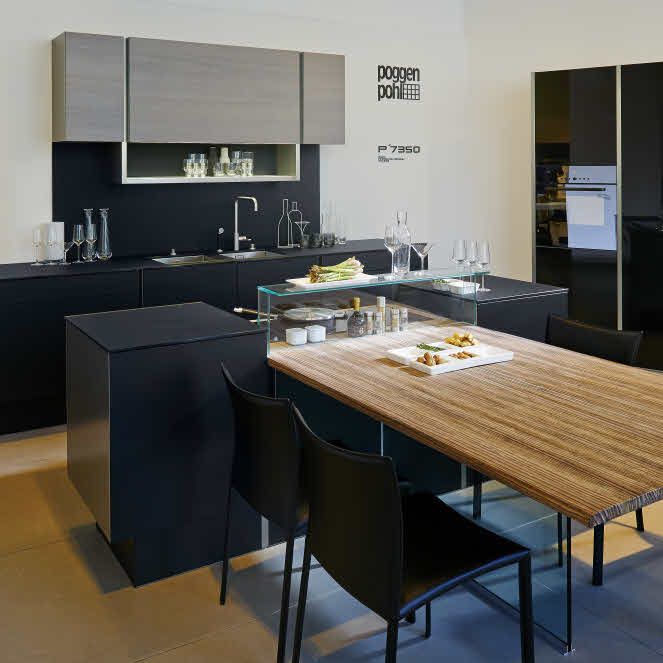 Also Trending @
#KBIS2015' / Modenus' BlogTour!