The BLANCO products used in the penthouses on display at the Kitchen and Bath Industry Show (KBIS) were perfectly suited for the contemporary style of the spaces.
I'm a huge fan of BLANCO. I really love the linear shapes and hard corners of their sinks.
And their faucets: they're industrial, yet sleek and modern.
What's not to love! ;-)
Slideshow — Sinks by BLANCO
One of BLANCO's new introductions are two gorgeous water-saving faucets.
Now you can have real beauty and a professional look for your eco-friendly lifestyle!
Here's what Tim Maicher, Director of Marketing for BLANCO, had to say about their newest offerings:
"Our latest collection of faucets offer livable style," stated Tim . "When we say livable style, we are referencing style that leads trends while integrating into any kitchen design. At the same time, we are talking about the faucets' functionality. Faucets are the jewelry of the kitchen. They must be attractive, but they are also the most abused fixtures in the kitchen. That's why we engineer BLANCO faucets to last, to use less water, to provide unmatched cleaning and to be as easy to use as they are to maintain.
Two new stunning additions, the professional MERIDAN™, and the classic SONOMA™ deliver powerful performance, complete with beautiful finishes and water saving 1.5 GPM flow rate."
BLANCO is introducing this fabulous sink: "PRECIS".
It features a drain board and even a cutting board option, perfect for small space living, which helps to extend the work surface of a kitchen.
"The new BLANCO PRECIS sink is the ultimate kitchen work area with its elegant, contemporary design and unique integrated features. The design inspiration for this piece really stemmed from the beauty and nonporous nature of BLANCO's proprietary SILGRANIT II material. SILGRANIT II is nearly indestructible and offers an extremely hygienic surface that's both safe and tough for food prep, cleaning and more. It made perfect sense to add a European styled drainboard to the PRECIS design and to create a system of integrated accessories including a grid and cutting board that helps our customers save space and transform the sink into a multi-functional workstation."
I love BLANCO's Silgranit products and often use them in my kitchen remodels.
Slideshow — BLANCO's "PRECIS" sink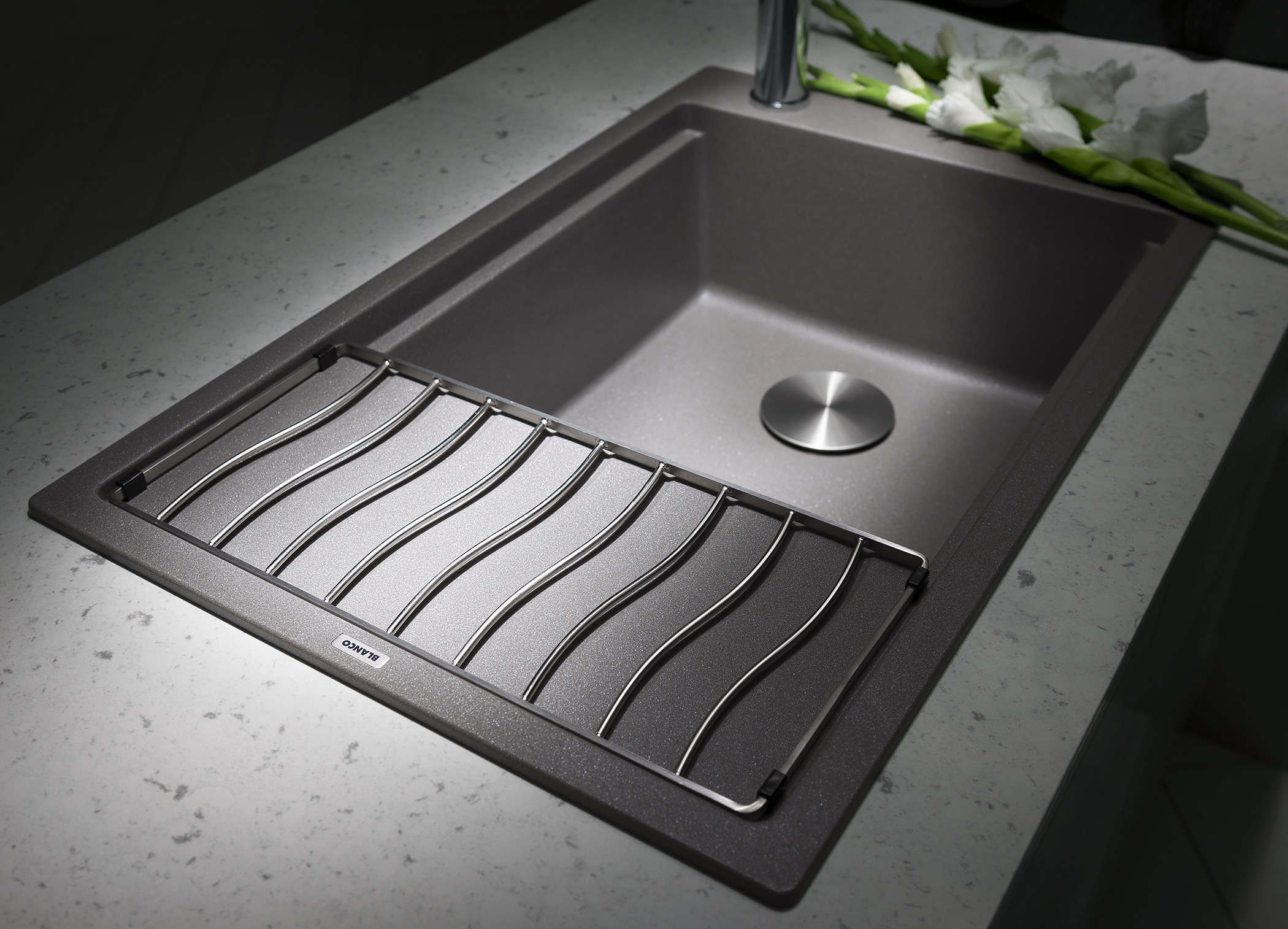 Another BLANCO-fave:
The "Attika" stainless steel sink with it's new walnut cutting board. What a beauty!
Also Trending @
#KBIS2015' / Modenus' BlogTour!