New England in Texas? Sure! why not? Who doesn't love a little red, white and blue?
When I met my clients, originally from the east coast, I was challenged to create a fun upstairs game room with a look that defined their style: a blend of a coastal / cottage energy that also addressed their need for lasting durability and multipurpose use.
No Texas Tuscan here!
Getting To Know The Client's Style
I love working in a variety of styles, so this was one I couldn't wait to get my hands on.
Luckily, their home's existing makeup offered a great starting point to help me make that design statement, all we needed to do was tweak a few details and fill in the space with furnishings.
This is how we began: with some...
Inspiration!
The homeowner submitted the images here at the beginning of the project as examples of the type of styles she liked. It's so different for this area, and I love it.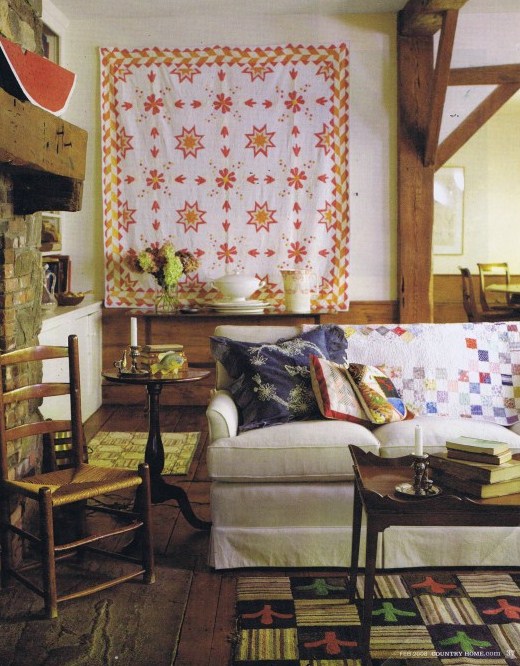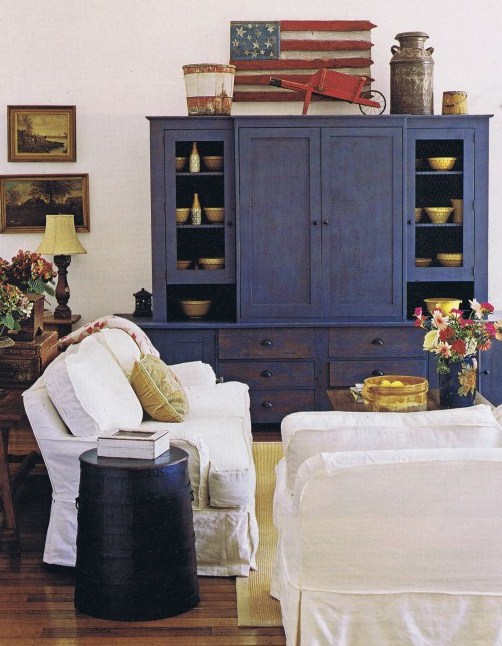 Customizing The Client's Style Into Something New, Exciting
After doing a little visual research, I came up with some more images featuring Americana style. It helped me hone in on some must-haves for this room.
Click image below to see the post featuring pictures of Americana style that inspired me.
Layout Design
To the right: The room, pre-design, is already a great space with an interesting peaked ceiling and some nice light from the windows (good bones always make a job easier). But, unfortunately, this incredible room has rarely been used. No worries, though . . . we'll change that!
Below: The furniture plan showing a comfortable seating arrangement with a game table and large rug.
Finding The Floor's Style
Click above images to enlarge
As you saw in the pre-design photos, the pine floor was not the most attractive feature in the space. The homeowners were considering carpet to have a comfortable place for their children to play, but because there was carpet in the adjoining bedrooms, and they weren't up for re-carpeting the entire upstairs, we decided to go with a large custom rug to cover it up.
I selected a 100% wool carpeting to make into our large custom rug. It has a needlepoint style in a neutral color with a smaller traditional pattern and striped border. It's a woven product, so it's very durable, to withstand years of play.
Starting to look a little Americana here, don't you think?
I wanted to reuse their existing sofa, recovered in warm, neutral fabric and throw in lots of red, white, and blue with pillows, window treatments, and some furniture.
Yes, those are some Ralph Lauren fabrics up there - perfect for this style.
Revealing The Design Plan
Click above images to enlarge
Before clients come into my studio to view our design plan presentation, I place all visuals on the conference table and place a giant piece of black felt on top of it all.
Once the presentation begins, I introduce the floor plan and discuss layout while everything is still covered up. Finally, after I've built up their anticipation, I present them with the big reveal...
As you see in the pictures above, I have loose fabrics and materials laid out on the table like a giant sample board. With such a setup, I'm able to visually walk them through the space, and they're able to pick up and touch all the materials we'll be using.
We also presented our clients with digital boards that illustrated our plan, so remembering exactly what was what would be easier for them.
Some of the "must have" furniture pieces for this room, a comfy, leather chair and ottoman back in the corner. I wanted a little bit of a layered look, not so white up here, for durability and to give some seriousness to the space. This will be a place where children and adults will come to spend time, so I didn't want it look too immature.
I love the spindle chair, very appropriate for this style, covered in a neutral, tone on tone plaid.
The coffee table from Stanley, in a navy base with a warm wood top brings some color into the room. The top has some distressing, so playing and writing and all the things kids do on a coffee table won't even be seen.
The cricket table from Fauld, again a great piece in the simple New England style we're going for here. I love that handmade looking chunky wood table for the other end of the sofa. Doesn't it look like your grandfather made it out in his wood shop? Perfect!
A custom ottoman covered in a bright red wool, with navy stripes is positioned for sitting in front of the tv playing video games.
Of course, what would Americana style be without a Windsor chair? The bright red finish brings some great color to that corner of the room.
Placing The Patterns
I love the mix of patterns here. The solid fabric on the sofa and tone on tone on the chair provide a nice base for the colorful patterns that evoke the style of the room.
That red and blue fabric with the sunflowers will be made into some lively Roman shades on the big windows.
It's not shown on the digital boards, but I like to give my clients a little something to scout out on their own if they so desire.
With this client, I proposed a collage of colorful, antique gameboards to hang on the large wall above the sofa. She loved that, so she's off this summer with her project, to find the gameboards that speak to her and will provide the timeworn color and geometric pattern to give this room some additional personal touch.
We're also tearing out the old tv cabinet and installing a new one in a warm wood tone with some light distressing.
Beadboard doors will give it a cottage feel, and the wood finish will not make the black tv screen stand out in contrast so much.
And Our Work Has Only Just Begun...
The fun has only just begun! ll the products are on their way and will be ready to be installed this summer! I can't wait to see this room take shape. I'll share the finished photos when it's done...
So far, my services have not only saved the homeowner from having to spend a tremendous amount of time on their own project, but I've been able to tap into my unique sources and know-how to piece together a beautiful space that represents their taste, their history, and their family.
This room will be a reflection of who they are, and it enable the room to perform the functions they've long desired.
Fast Forward - Here are some sneak peeks of some of our custom products going in to this homey gameroom in Americana style.....